URGENT ACTION
Dear ruben,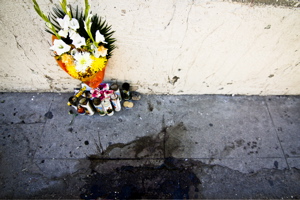 Street memorial for 16-year-old José Antonio Elena Rodríguez, who died on October 10, 2012, riddled with bullets by a Border Patrol agent or agents firing across the international boundary. (Photo courtesy of Murphy Woodhouse)
On the night of October 10, around 11:30 p.m., José Antonio Elena Rodriguez, a 16-year-old resident of Nogales, Sonora, Mexico, was shot dead by a US Border Patrol agent (or agents) in his own country.
This occurrence was not unique. There have been 18 violent killings by Border Patrol/Customs and Border Protection since 2010. Among them is Ramsés Barrón Torres, 17, who on January 5, 2011, died in Nogales like José Antonio, on Mexican soil.
The known circumstances of these killings strongly suggest unnecessary or excessive use of force.
Please join us in denouncing them and calling for action.
The agent(s) that killed José Antonio fired on him from atop a 25-foot embankment, from behind the 20-foot-tall steel border wall and a dense area of foliage, and 30 feet across the street. José Antonio was shot in the back at least 7 times, with two bullets being found in his head. Some reports state that 14 bullets were fired altogether. Those who visit the site come back with no doubt that this was an unlawful killing.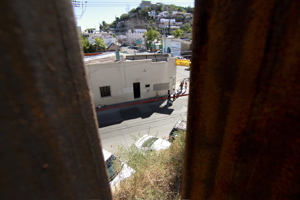 Pedestrians stand at corner where José Antonio died. Seen from the U.S. side through one of the gaps in the steel wall that looms over the street. (Photo courtesy of Murphy Woodhouse)
Three weeks have passed since José Antonio was killed, and almost two years since Ramsés was killed. In both cases, the FBI, tasked with investigating these incidents, has released no official statements, and has neither identified nor arrested the agent(s) involved. The identity of officers involved in shootings is public information, and many in this border community, where No More Deaths volunteers live and work, see José Antonio's death as a clear case of bloody murder.
Please join us in urging the Department of Justice and the FBI to act transparently and decisively.
The excessive use of force that resulted in José Antonio's and Ramsés's and 16 other deaths is not the action of isolated "bad apples." Rather, it is a consequence of the Border Patrol's militarized approach to border enforcement, and it shows a callousness that is consistent with the findings of No More Deaths' 2011 report
Culture of Cruelty
, which documented 32,075 incidents of physical abuse by Border Patrol agents against migrants in their custody.
We seek justice for José Antonio's and Ramsés's families, and an end
to these killings.
Please take the following actions:
ACTION: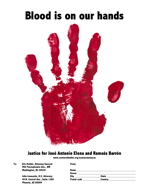 Send letters to the Attorney General and the Secretary of Homeland Security
. This e-action tool makes it very simple.
ACTION: Send a bloody handprint
like this one
with the message "Blood is on our hands" to the Attorney General and the US Attorney for Arizona. Print out ours or make your own! Be sure to include your name and address.
ACTION: Report the facts that you know: file a crime report with the FBI Phoenix field office. See the
instructions
provided on our website.
ACTION: Tell everyone you know to visit
nomoredeaths.org/nomasmatanzas
and join us. Blood is on our hands. The power to stop this is also in our hands.
Thank you for supporting this campaign.